It finally happened!
Imagine being able to stop by Free Play whenever you want without concern about the admission fee. We're talking unlimited monthly access to literally hundreds of authentic games at all three (with more on the way)award-winning Free Play venues across the metroplex for only $35 / month.
What's more, your membership helps Free Play continue its work bringing authentic arcade games to as many people as possible. Every Free Play location exclusively features games that run exactly as they did when they were released (real chips, real code, no emulation). Your membership helps ensure that Free Play is around delivering authentic arcade experiences for generations to come.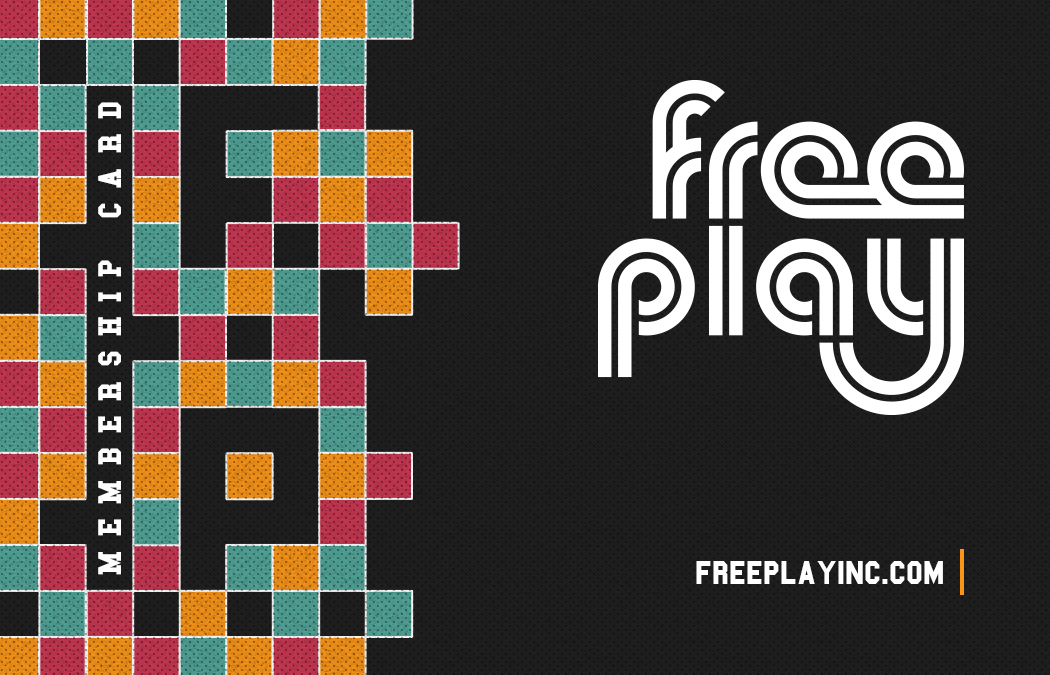 Standard Membership
Your Pass to Unlimited Arcade Gaming!
Unlimited Visits Per Month
Monthly-ish Zine A Free Play Zine
Priority Access Special Events and Beta Tests
All Locations Included Visit Any DFW Location
Membership Card It's Attractive
League Access Play in Free Play Leagues
Join Now!
VIP Membership
More benefits, more fun, more real games.
Unlimited Visits Per Month
All Locations Included Visit any Free Play
VIP Mondays Up to 3 free guests every Monday
Monthly-ish Zine A Free Play Zine
Ultra Priority Access Beta Tests / Special Events
Membership Card It's Attractive
League Access Play in Free Play Leagues
Discounts 10%-off Food and Non-Alcoholic Drinks
More Discounts 25%-off Merch in Store
Join Now!
Questions
How do I get my membership card?
Simply show up to any Free Play location after subscribing and our staff will activate your card. Once you have your membership card, simply present it at any Free Play location and (after a swipe and a wristband) you're ready to play!
How do I get my zine?
The zine will be available for pickup at any Free Play location upon each release. Though we are attempting to publish 10-12 zines per year, it's going to take us a bit of time before we perfect the art of the zine and gaps may occur.
What leagues are covered by the card?
Given how 2020 went, we are slowly restarting all of our leagues at Free Play. Right now, the only league covered by the card is the Killer Queen league. That said, the card is good for all Tuesday Night Fights, Pinball Mondays, and all other regularly occurring non-ticketed Free Play events.
What parties are covered by the card?
All regular events that require only Free Play admission are covered by the card, including all weekly tournaments, DJ events, and similar. Most ticketed events are not covered by the pass.
Do you have a family pass?
No / not yet. Historically, Free Play has had a flat admission price for all ages because whether you're five or fifty, you take up exactly the same amount of gameplay spots at a time. As of now, that policy continues with the membership. (1 pass per person). You could, of course, purchase 1 VIP pass and use it as a "family pass" by bringing your family every Monday when VIPs receive admission for three guests free of charge.
Can I give my pass to my identical twin brother to use?
No. There is no sharing of memberships and such sharing may result in revocation of your membership.
What happens if I lose my card?
Replacement cards are $3. Activating a new card will result in your other card being permanently disabled.
What are the differences between the Regular Membership and the VIP Membership?
VIP cardholders are permitted to bring 3 free guests with them to any Free Play location every Monday. VIP cardholders also receive 10%-off all non-alcoholic, in-person purchases at Free Play along with extra-priority ticket access to any ticketed event at Free Play. While it's packed with value, the VIP card is also a way for you to show that you support epic arcades running real hardware.
How would my membership affect ticketed or special events?
For ticketed events run by Free Play where sell-outs could happen quickly, each member receives priority access to purchase tickets to the event. For special events or ticketed events run by third-parties at Free Play, each event will be handled in a different manner.
Why didn't you charge more and/or less?
We want you to abuse this card and receive great value from it. While there are a ton of competing subscription model theories that business schools like to debate, we're targeting our most loyal and regular customers with the card because those are the customers who will have the greatest level of satisfaction with it. As this is a beta test, we will be paying careful attention to ensure that we are delivering the best possible value to our amazing customers while keeping the lights on at our award winning arcades.
Can you give me a detailed analysis of other arcade memberships across the nation and how this compares?
There is no other monthly membership in the world that gives you access to this many well-maintained and authentic arcade games all in the same metro area. While the cost is comparable with most similar memberships, this is the only membership that gives you admission access to four different arcade locations all within an hour of one another. For a little more than a dollar-per-day, you get daily access to the best curated and maintained arcade collection on the planet.
How do I pay for the membership?
Your membership automatically renews by credit card each month (on the day that you signed up).
How do I cancel my membership?
You will receive an onboarding email that allows you to setup and manage your account. In case of emergency, email jessica@freeplayinc.com to cancel your membership. Your card will be permanently disabled upon the termination of your membership.
What are the additional terms and conditions of this membership?
The membership gives you admission to any Free Play arcade location only during regular, open hours. The membership is not valid for admission during private events, ticketed events, or other closures to the public. Reasonable efforts will be used to post these blackout dates on the Free Play website(s) in the case of a closure, private event, ticketed event, or similar.
A Free Play membership is a revocable license and may be confiscated with no refund of purchase price. Violation of Free Play rules, policies, and procedures may result in expulsion and cancellation of the membership. The membership is non-transferable and cannot be sold, loaned, or given away to be used by a third party.
Membership benefits beyond admission are subject to change with or without notice as Free Play evaluates the membership program. In general, Free Play will attempt to provide ample value to its membership holders. All terms, conditions and benefits including, but not limited to, admission privileges, blackout dates, prices, pass type availability,  benefits and discounts are subject to restrictions, availability, and change or cancellation without notice at any time.
Refunds are not available for membership payments in any circumstances. This does not affect your statutory rights as a consumer. Members and guests assume the inherent risks associated with the operation of all games and attractions and should read and obey all safety signage, instructions and rules. Free Play assumes no responsibility for accident or loss to any person in connection with the condition or use of the arcades or their entrance into or departure from the arcades.